Posted on June 12, 2008
Filed Under Dr. Bamboo | Leave a Comment
This is the first post from Dr. Bamboo, freelance illustrator and cocktail enthusiast. His booze-centric misadventures are documented at his blog, Dr. Bamboo.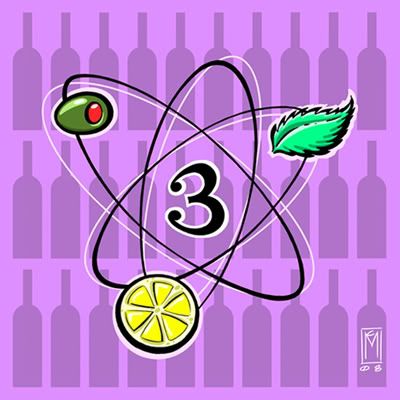 I recently had the chance to shoot the breeze with Philip Ward, head bartender/bar manager at Death & Company in New York. He'll be one of the good fellows enlightening us at "The Three Amigos: The Three Most Important Drinks You Need to Know and Why" presentation.
Philip was kind enough to let me hit him with a quick handful of questions concerning classic recipes, current drink trends, personal favorites and of course, the Three Amigos…
What initially got you interested in classic drinks, their history, and how to make them properly?
It was chance, really. I got the opportunity to live in New York for month, subletting an apartment. During that time, I had a job as a barback at the Flatiron Lounge and got to see all these wonderful drinks I'd never encountered before being crafted. The idea of researching and making all these classic drinks really hooked me. It was a type of creativity that was satisfying in a way I hadn't experienced with other mediums. Also, the chance to open people's eyes to new things was very appealing.
What do you find are the biggest misconceptions about classic drinks?
How to make them. There are a lot of people who are making classic drinks that exist in name only. For example, they're making things like Manhattans and Martinis using the wrong ingredients and the wrong proportions. This occurred over time of course, with people using pre-made mixes rather than fresh ingredients, and the drinks gradually became something completely different than what they originally were.
What is your favorite go-to drink?
If I'm going to your average bar, I'll get a gin & soda with extra lime…that way I can kind of make my own Gin Rickey. If I'm going somewhere where they take their drink-making seriously, I'll get a Negroni on the rocks.
What drinks or drink families are currently popular?
I'm seeing a lot of interest in strong, stirred drinks. A lot of my customers are moving away from the sour-based, citrusy, shaken drinks and venturing into simpler drinks that have fewer ingredients but require more skill to make…simplicity is the easiest thing to screw up.
What "forgotten" drink category would you like to see make a comeback?
Punch. Punch is a glorious, beautiful thing- when it's right, it's delicious. It has a fantastic texture in the mouth, and the combination of the juices, spirits and water is great. We've been serving a lot of punch in a traditional Victorian service, and it's really popular. Punch was the original cocktail, and all mixed drinks are in some way or another descended from it, so more people should be aware of it and enjoying it.
Is there a specific spirit or drink that deserves more recognition?
Tequila. I'm very fond of it, and it's so versatile. I like to take drink recipes apart and replace certain ingredients with others while keeping the basic template intact, and Tequila works great for that- The different styles and ages can be worked into a lot of recipes. I'd say about a quarter of the drinks we're serving right now are tequila-based. I see a big future for it.
Also, Mezcal is a great spirit when used well. It's not just vulgar stuff with a worm in the bottle.
Any hints as to what specific drinks you'll be presenting?
We'll be presenting 3 drinks…and one will be punch!
The Three Amigos: The Three Most Important Drinks You Need to Know and Why takes place Friday, July 18 from 2:30-4:00 p.m. at the Hotel Monteleone. Tickets can be purchased here.